Business concept
Providing optimized services to our customers
We provide high-quality services at reasonable prices to meet all the needs related to construction / introduction / operation / maintenance of ICT infrastructure.
We will contribute to more wide use of and effective utilization of ICT infrastructure by meeting/solving "expectations", "dissatisfaction" and "burdens" on customers' ICT infrastructure, and through optimized introduction support / procurement.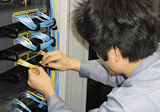 Business content
Based on the technologies and quality obtained through the ICT engineering works for NTT Group companies, we can provide telecommunication networks solutions as well as any peripheral system solutions related to the networks.
Aiming to see smiles from our customers, we will provide total consulting, construction and system integration solutions with advanced technologies to add new values to our customers.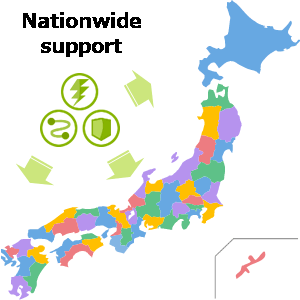 Equipment engineering/construction / support / maintenance
ICT

Network system
Voice system
Wi-Fi system
Surveillance camera system
Disaster prevention system
Entry / exit management system
POS system

EMS

Solar system
EV charging system
Visualization system
Storage battery system
LED system

O&M

Opening control center
Business consulting
Kitting center
Line introduction support
Operation and maintenace scheme
Network engineer dispatch, business support
System integration business
By smartly combining various information obtained from broadband network, we will propose solutions for information sharing, productivity improvement and to add values as your partner.
Tenant communication line arrangement centralized reception desk
Arrangements and procedures can be organized at the central reception desk, reducing the time, effort and organizing error by the tenants
Opening control center
In accordance with the rules of the customer, the line operator, and the installation/construction company, we will centrally project management including progress management and procurement management.